"Inogen At Home" for International Travel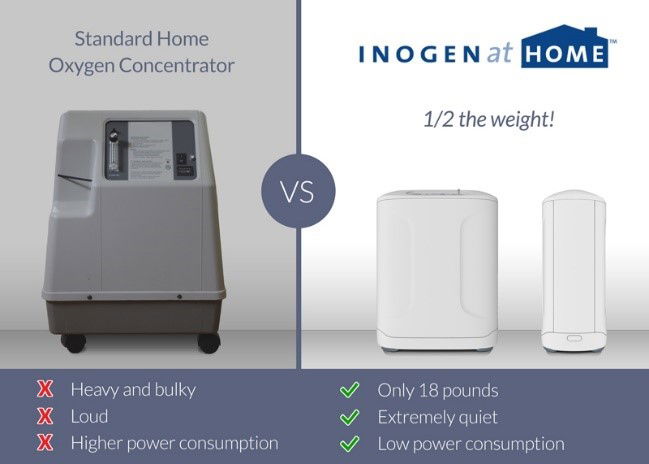 Energy Efficient and Powerful
The Inogen at Home Oxygen Concentrator is an energy-efficient 5-liter per minute continuous flow oxygen concentrator.
The Inogen at Home weighs approximately 18 pounds, making it lightweight, compared to other oxygen concentrators on the market today. Its low power consumption makes this concentrator an easy choice for your patients.
The Inogen At-Home portable oxygen concentrator is considered great option for people traveling requiring oxygen delivery on Continuous flow from 1-5 LPM, designed to be used at all times during the day or night and has an impressive compressor life. It was designed with the intention to fit any patient's needs, including those who require CPAP or Bi-PAP devices.
The sleek, slender shape was intentionally designed to be discrete and easily transportable.
Specifications
The sleek dimensions allowing it to easily fit into a travel suite case that will fit into an overhead locker. (Omega Oxygen will supply you with the required travel suitcase)
• Oxygen Flow Continuous flow delivery system up to 5 litres mper minute
• Weight 18 lbs / 8.16 Kilograms
• Size Length: 7.0" Width: 13.0" Height: 16.5"
• Noise Level 40 dBA*
• Battery N/A
• Power AC Power Supply 100-240V, 50-60Hz. DC Power Cable: for mobile use.
• Compatible Auto power sensing to allow worldwide use
• Operation Simple control functions.
With its 3-button operation, the Inogen At Home is easy to use and maintain.